Innovation is key to a vibrant Ontario financial services sector.
In 2020, FSRA launched the Innovation Office to support you in creating strong, sustainable and competitive innovations in the financial services sector. Since launch, FSRA has gathered information, established working relationships and developed an Innovation Framework to guide the creation of responsible and impactful innovations in Ontario.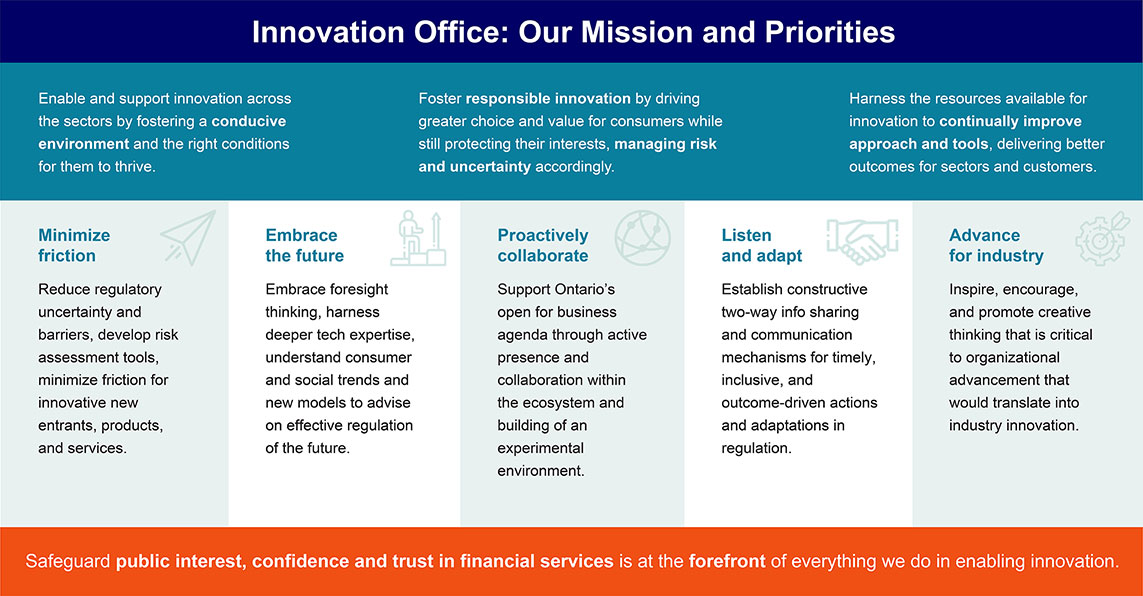 Innovation framework
The Innovation Office is developing a framework to make it easier for you to propose new ideas, products and services. The framework aims to set clear expectations and guiding principles that will help you bring innovative products to market in a sustainable, responsible and accessible way.
Stakeholder participation
The Innovation Framework is now available for review and consultation. It outlines FSRA's process for facilitating open dialogue with innovators and our Innovation Office. It:
sets out our guiding principles and approach to innovation;
describes our regulatory review process to make innovations easier for new entrants and industry incumbents; and
promotes the use of test and learn environments, starting with our Auto sector, which will help introduce new products, services and business models.
The consultation is now open and will close on November 18, 2021.
To learn more, visit the consultation page.
Coming soon!
Consultation on FSRA's Test and Learn Environments (TLE) Innovation Guidance
The proposed TLE Innovation Guidance will outline the parameters for safe and responsible test and learn environments for new products, services or business models while keeping consumers protected.
Test and Learn Environments for Financial Services Modernization and Innovation (All Sectors)
TLE Guidance Appendix for Auto Insurance (Auto Insurance Sector)
Open Portal for the Test and Learn Environment for Auto Insurance
An experimental and safeguarded environment for industry to test new products and services.