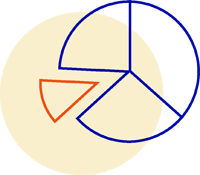 How do auto insurance rates get approved? 
Auto insurers need approval from FSRA to change the rates that they use to calculate premiums for their customers. FSRA's role as the auto insurance rate regulator is to ensure that a company's proposed rates are just and reasonable and not excessive.  An insurance company also needs to charge enough to cover its operating expenses, pay future claims obligations and earn a reasonable profit.
FSRA reviews applications in detail.  We ensure the assumptions used by the insurer are reasonable. For example, we use our own benchmarks to review and evaluate insurers' applications. FSRA can reject part of or the entire application if, as a result of regulator's review, a company is misstating its forecast rate need.
You can review rate changes as they are approved for every auto insurer in Ontario.  FSRA is providing timely information and improving transparency to better assist you.
Your Average Premium
Average premium information gives consumers a convenient provincial average to compare with their own premium. FSRA will update the average premiums in Ontario on a regular basis.
Average Premiums in Ontario
| Region | As of Mar 2021 | As of Dec 2020 | As of June 2020 |
| --- | --- | --- | --- |
| Ontario | $1,651 | $1,665 | $1,664 |
| GTA | $2,223 | $2,246 | $2,252 |
| Other Urban | $1,564 | $1,573 | $1,566 |
| Rural | $1,289 | $1,295 | $1,286 |
The average annual premium is for all Ontario Private Passenger Vehicles insured in Ontario over the past 12 months.
A customer's individual premium can change because of an insurer's approved rate change overall. A premium change can also be a result of changes in the customer's own circumstances, such as a speeding ticket.
Impact on auto insurance during COVID-19
FSRA continues to protect the interests of consumers by monitoring auto insurance rates and changes in driving during the pandemic.
In March, 2021, the largest auto insurers comprising more than 95% of the Ontario market voluntarily committed to additional rate reductions for their customers.
Most reductions are expected to be in the market by July 1, 2021. FSRA approved 83 rate applications between March 17, 2020 and December 31, 2020. 81 were approved for an average change of 0% or less. Almost all of FSRA's approvals were related to COVID-19 and the impact of fewer drivers on the road.
Time to shop around?
FSRA encourages consumers to shop around and determine what type of auto policy is best for you. You are under no obligation to accept your current insurer's renewal offer, and you may find better prices with another company.
If you have concerns or complaints about your premiums/rates:
Contact your insurance agent, broker or company to ask about your policy and the price you pay.
Contact FSRA at: contactcentre@fsrao.ca.