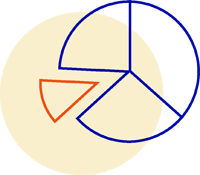 How do auto insurance rates get approved? 
Auto insurers need approval from FSRA to change the rates that they use to calculate premiums for their customers. Legislation outlines that FSRA must consider whether the rates are just and reasonable, not excessive and not going to impair a company's financial solvency (profit).
FSRA reviews applications in detail.  We ensure the assumptions used by the insurer are reasonable. For example, we use our own benchmarks to review and evaluate insurers' application.
FSRA can reject specific assumptions or the entire application if, in the regulator's judgement, a company is misstating its forecast rate need.
As of October 1, 2020, you can review rate changes as they are approved for every auto insurer in Ontario.  FSRA is providing timely information and improving transparency to better assist you.
Your Average Premium
FSRA is posting the average premium which is a clear benchmark for consumers to evaluate their own premium. FSRA will be updating this premium on a regular basis.  
The average premium to the end of June in Ontario is approximately $1,664 up $30 since December 2019.  
FSRA encourages consumers to shop around and determine what type of auto policy is best for you.
This is the average annual premium of all the Ontario Private Passenger Vehicles insured in Ontario over the past 12 months. It is based on the total premium charged for private passenger vehicles insurance in Ontario divided by the total number of vehicles insured across the entire insurance market. It considers all coverage, limit and deductible choices made by Ontarians. 
Premiums also impacted by region:
Average for GTA: $2,252
Average for Other Urban: $1,566
Average for Rural: $1,286