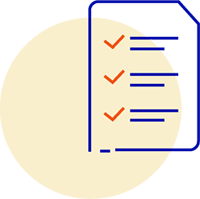 The policy options you choose impact the price (known as the premium) that you pay.   Here's an example of similar drivers and why their premiums are different:
Driver A and B have been accident free for 25 plus years. Neither have any driving related offenses within the last 6 years. Both drivers commute about 20 km one way every day with annual mileage of about 15,000 km. They both live in downtown Toronto. Driver A has an older vehicle and decided not to purchase collision coverage. Driver B has a newer luxury vehicle and purchased additional coverage. Driver A and B are each insured for one vehicle.
What's on this page:
Accessible description of image titled "Understand your needs and options"
Auto insurance is mandatory in Ontario. When buying auto insurance you are required to purchase the following coverages:
Liability Coverage:
Protection from claims against you. The minimum limit is $200,000 in Third-Party Liability coverage. 
Accident Benefits Coverage: 
Covers you for medical and rehabilitation benefits, amongst others, if you are injured in a collision.
Direct Compensation - Property Damage (DC-PD) Coverage:
Covers the cost of repairing your vehicle if it is damaged by another insured person who is at fault. 
Uninsured Automobile Coverage:
Protects you and your family if you are injured or killed by a hit-and-run driver or by an uninsured motorist. It also covers damage to your vehicle caused by an identified uninsured driver.
You also have many additional coverage options not required by law.
Optional coverage
You may choose to purchase additional coverages. Examples include collision and comprehensive, increased accident benefits and loss of use. You may need to buy collision and comprehensive coverage if you lease or finance a vehicle.  
Your deductible
In the event of a claim, the deductible is the amount the policy holder is responsible for paying. When deciding on policy options, most auto insurers offer various deductible options. A lower deductible will reduce your portion of the claim. It may also result in a higher premium. The reverse is also true. You can discuss options with your insurance agent, broker or insurance company. These options could even include a separate deductible for each coverage you select.
The amount you drive
The number of kilometres you drive, whether you commute daily and the number of drivers on your policy all impact the premium that you pay. The more you drive, the higher the risk of being in an accident. And the higher the price of your insurance.  When shopping for insurance, consider how far you tend to drive in a week, month or year. You can also consider "pay as you drive" or "usage-based insurance (UBI)" policies.
Your driving record
Previous collisions and the number of years licensed are important aspects of your driving record and insurers use this information to calculate a price for you. Whether you have taken driver training, have any speeding tickets, or driving convictions can also be pricing factors.
The vehicle you drive
The make, model and year of your vehicle has an impact on your premium. Some cars are safer, and so, are less expensive to insure.  Some vehicles are more expensive to insure because of the cost of parts used in repairs. Before buying a new car, shop around to get a quote for the car you want to buy.
Where you live
The likelihood and cost of collisions, theft and weather can differ from one region to another. All can impact an auto insurer's pricing.  For example, the average auto insurance premium is higher in the Greater Toronto Area (GTA) compared to other urban areas.  Rural parts of the province feature the lowest average premiums as of June 30, 2020.
Shop around for the policy that best matches the coverage you need and your budget. The amount you pay for auto insurance can vary by company and your situation. You can search online or reach out to an agent or broker to find the policy that's right for you.
You can also explore ways to save. For example, you may be eligible for a discount if you do not have any claims or convictions You may also be eligible for a discount if you are a new customer and many companies offer multi-line discounts if you purchase other insurance products such as home insurance with them.
Your rights and responsibilities as a consumer
The Ontario auto insurance policy is a legal contract between you and your insurer. You have rights and responsibilities under this contract.
Rights
be treated fairly by your insurance company.
be given written reasons if you have been denied auto insurance. 
keep your policy in place if you pay your premiums and meet all requirements.
be informed in writing if your policy is not being renewed or if the terms of your contract are changed.
change or cancel your insurance policy at any time.
know from which companies your broker received quotes and the amounts.
prompt and fair handling of claims.
reasonable repair of your damaged vehicle.
challenge your insurance company's refusal to pay benefits.
register a complaint about your insurance company.  
Responsibilities
insuring your vehicle and retaining your electronic or paper based proof of insurance (pink slip) while driving. 
paying your premium in a timely fashion.
giving true and accurate information to your insurer.
letting your insurer know right away about any changes that could affect your insurance situation
providing your insurer with updated information when requested.
completing medical examinations requested by your insurer if you are claiming accident benefits
participating in treatment and rehabilitation and try to get back to work If you receive accident benefits 
Image descriptions
Understand your needs and options
 
Driver A
Driver B
Vehicle
2011 Ford Escape XLT
2019 MERCEDES-BENZ C63 S 4DR
Liability
$1 million, $0 deductible for direct compensation-property damage
$2 Million, $0 deductible for direct compensation-property damage
Accident benefits and uninsured motorist coverage
standard
standard
Comprehensive
Not purchased
Comprehensive Purchased 
Deductible: $500
Collision
Not purchased
Deductible $500
Endorsements
None purchased
Endorsements:
Depreciation waiver coverage: purchased
Loss of Use: purchased
Rental car insurance: purchased
Premium
$1,070
$2,651
Average premium: $ 1,664