The Financial Services Regulatory Authority of Ontario (FSRA) is enhancing the protection of consumers who work with mortgage professionals in Ontario.
The Code provides simple, clear guidance on how to conduct mortgage brokering activities that protect consumers' interests. It does this by reminding licensees to:
Provide products and services that are suitable for each client;
Provide services in a transparent and effective manner; and 
Comply with all applicable legal and regulatory requirements.
The Code behaviours help protect, inform, and build trust with your customers
Follow the Code and adopt it into your culture. Failure to adhere to the Code may result in a breach of MBLAA obligations and lead to enforcement actions.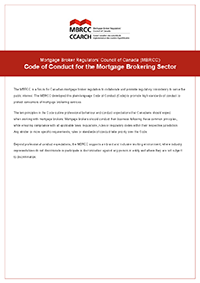 Download and share the Code with your clients to help them understand what they can expect from you.