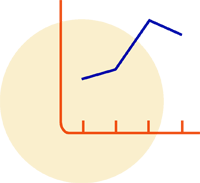 The price of all types of insurance is closely related to the expected cost of the risk being insured. By far, the largest percentage of auto insurance costs relate to the likelihood of being in a collision and paying out claims. Drivers with recent driving convictions, a history of at-fault claims or limited experience generally represent a higher risk than drivers with "clean" driving records and many years of driving experience. As a result, those drivers deemed to be a higher risk typically pay more.
Other costs include distribution, general operating expenses and premium taxes.
What's on this page:
Market conditions
We refer to market conditions as factors that influence the cost of auto insurance and the price you pay. The impact of these factors may be widespread or specific to your local area.
Examples of current market conditions affecting auto insurance premiums in Ontario include:
COVID-19 
Since late March, auto insurers reported a drop in the number of reported collisions. They have also reported a decline in kilometres driven by their customers. In response, insurers provided relief to their customers. Relief included rebates and rate reductions. Regulatory changes by government and new guidance from FSRA made this possible.
In July, companies reported to FSRA that they provided $992 million in consumer relief. This included rebates, refunds and rate reductions and other measures.  It also included premium deferrals so customers could remain insured even if they couldn't afford to pay. 
The consumer relief programs that are being offered differ from company to company. Consumers should contact their insurance broker, agent or company to explain your circumstances and find out what type of relief is available to you.
Image descriptions
Premium breakdown
Customer data: Based on your profile and driving history, what is the likelihood that you will be in a collision? If you are in a collision, what is the expected cost of paying your claim?
Vehicle data: What safety features does your vehicle have? What is the likelihood that your vehicle will be stolen? How expensive is it to repair or replace?
Geographical data: The likelihood and cost of collisions, theft and weather can differ from one region to another. All can impact an auto insurer's pricing.
Market conditions
1. Physical damage costs
New technology has increased the cost of fixing vehicles. For example, most cars now have rear view cameras and sensors in their back bumper. This means the repair includes not just the bumper, but the technology in the bumper, too.
Cars today have a lot of advanced technology which benefits the drivers but also makes the car much more expensive to fix and find replacement parts. For example, when your car is in a collision there is cost to the insurer company for parts and labour to fix your car, and appraisal, towing services, and, if required, a rental car. The cost of an average car collision has gone up year over year from $6,370 in 2015 to $8,227 in 2019.
2. Cost of inflation
Your premium is affected by the increase in the price of goods and services over time. Insurers adjust premiums based on the expected cost of covering future auto insurance claims.
3. Fraud & abuse
Fraud and abuse contributes to higher claim costs and higher premiums for all drivers. FSRA is evaluating the effectiveness of current efforts to measure and reduce fraud and abuse in auto insurance.
4. Drivers on the road
A change in how much we drive has an impact on premiums. For exam, as a result of COVID-19, Ontario drivers changed their driving habits. Fewer cars on the road, resulting in fewer collisions and lower claims costs to date.
Relief Available to Consumers as reported by Ontario Auto Insurers
Timelines for Relief
May: $220M premium relief provided
July: $503M premium relief provided
% Increase: 129%
May: $465M future premium relief
July: $489M future premium relief
% increase: 5%
Total Relief by Type
May: $275M rebates and rate reductions
July: $478M rebates and rate reductions
% increase: 74%
May: $410M* other relief
July: $514M* other relief
% increase: 26%
Overall Impact
May: $150** average savings for consumers
July: $162** average savings for consumers
May: 66% of 6.6M Ontario auto policies are eligible for relief
July: 93% of 6.6M Ontario auto policies are eligible for relief
Total Available Relief
May: $685M
July: $992
% Increase: 45%
* Other Relief includes premium deferrals, waiving NSF fees, re-rating a policy for reduced driving kilometres, removing coverages, etc.